Find some pamphlets that answer questions and contain information for anyone new to Alcoholics Anonymous. You can download or read this literature online with the links posted below. Printing a single copy of these items is permitted, in accordance with the A.A. World Services, Inc. Content Use Policy.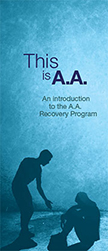 P-1 – This Is A.A. – An introduction to the A.A. recovery program.
Introductory pamphlet describing the kind of people A.A.s are and what
A.A.s have learned about alcoholism. For anyone who thinks he or she may
have a problem with alcohol.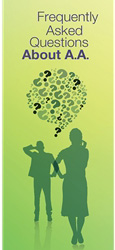 P-2 – Frequently Asked Questions About A.A. – (Formerly 44 Questions)
Answers the questions most frequently asked about A.A. by alcoholics seeking help, as well as by their families and friends.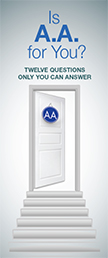 Symptoms of alcoholism are summed up in 12 questions most A.A.s had to answer to identify themselves as alcoholics.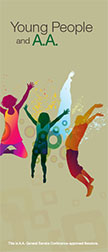 Ten Young A.A.'s —16 to 27— tell how the program works for them.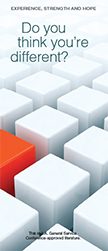 P-13 – Do You Think You're Different?
Speaks to newcomers who may wonder how A.A. can work for someone "different"—black or Jewish, teenager or nearing 80, plus nine other people who tell how the A.A. program has worked for them.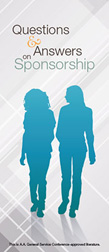 P-15 – Questions and Answers on Sponsorship
Uses shared A.A. experience to answer 34 questions likely to be asked by persons seeking sponsors, persons wanting to be sponsors, and groups planning sponsorship activity.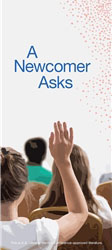 Gives straightforward, brief answers on 15 points that once puzzled many of us.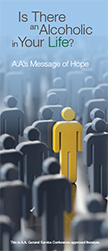 P-30 – Is There an Alcoholic in Your Life?
Explains the A.A. program as it affects anyone close to an alcoholic—spouse, family member, friend.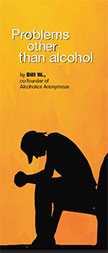 P-35 – Problems Other Than Alcohol
Bill's thoughts on the status of drug addicts within A.A. are as timely as when they appeared in a 1958 Grapevine.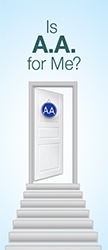 Based on the 12 questions in "Is A.A. for You?," this 32-page pamphlet is an illustrated, easy-to-read version.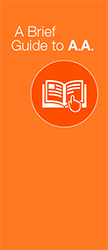 P-42 – A Brief Guide to Alcoholics Anonymous
Originally designed for use in schools, this folder also lends itself to other P.I. purposes. In simple language, it describes our program and offers general information on A.A.